Student Success Center Hours/Location
Room 207
Samuel Freudenthal Library
Monday - Thursday - 7:30 a.m. to 6:00 p.m.
Friday - 7:30 a.m. to 5:00 p.m.
Have questions?
Call: 719-846-5665
NOTE:
Summer hours are 8:00 a.m. to 5:00 p.m. Monday-Friday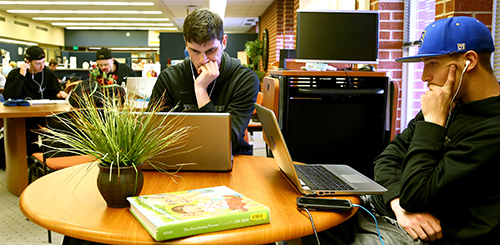 ---
---
---
TRiO Student Support Services Program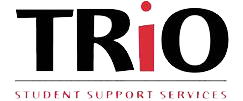 TRiO - Student Support Services is a federally funded program that provides opportunities for academic development, assists students with basic college requirements, and serves to motivate students toward the successful completion of their postsecondary education. The goal of the program is to increase the college retention and graduation rates of its participants and help students make the transition from one level of higher education to the next. Services include: Academic Support / Advisement, Mentoring & Advising, Cultural Activities / Events, Financial Aid Advisement / Assistance, Tutoring in Many Subjects, Transfer Advisement, Career Advisement, Financial Literacy Training, Campus Tours to Four Year Colleges, & Various Academic Workshops.
TRiO - Student Support Services must meet three main objectives to continue yearly funding
Persistence - A student must persist from one academic year to the next academic year.
Good Academic Standing - A student must maintain a 2.0 cumulative GPA or above.
Graduation & Transfer - A student must graduate and/or transfer to a four-year school within four years.
These objectives are accomplished through the work of the TRiO - Student Support Services staff in coordination with each student who is a participant in the program.
---
FREE ACADEMIC SUPPORT
Tutoring, Study Groups, and Study Skills Workshops
Located in Room 207 of the Samuel Freudenthal Library
8AM – 6PM, Monday – Thursday
8AM – 5PM, Friday
CLOSED for Spring Break

All tutoring at Trinidad State College is FREE and sponsored by Student Support Services and the TRiO Grant.
Additionally, these are excellent free online tutoring resources in Math, Science, and many other subjects:
---
Academic Intervention and Success Plans
If your GPA or persistence rate puts you at risk of academic probation, our staff will work with you to make a support plan to help you get back on track.
---
Math Lab
3rd floor Library (Located in Library 308)
Leslee Watson-Flores
846-5515 or 846-5006
Math Lab Coordinator
The Math Lab at TSC offers both traditional lecture and self-paced, individualized instruction style formats for all levels of developmental math. Developmental math classes at TSC were recently redesigned to allow students to develop their math skills and prepare for college level math classes in a little as one semester.
Extra assistance with developmental math courses can be obtained during open lab hours held in the Math Lab during non-class times. During open lab students can drop in for tutoring, take tests during longer, uninterrupted blocks of time, or make up missed classes. Times vary by semester and are posted in the Math Lab.
---
Writing Center at Trinidad State College - Trinidad Campus
Building Confidence in Your Writing Skills
Individualized paper review and consultation by trained tutors, including
Brainstorming
Organizing ideas
Guidance through all stages of writing and revision
Proof reading
Formatting citations
Internet research handouts for specific disciplines
Information about assignment specific resources for writers
APA Style Workshops scheduled throughout the semester
APA Workshop quick reference booklet available from the Writing Success Center
Writing Center hours in tandem with Library hours
---
Disability Services
The Disability Services Office operates under the mandate of Section 504 and 508 of the Federal Rehabilitation Act of 1973 and the Americans with Disabilities Act (ADA) Amendments Act of 2008, which prohibit discrimination on the basis of disability against any "otherwise qualified individual."
Individuals seeking accommodations must meet with Disability Services representative and provide documentation to support their request. Reasonable accommodations will be made on a case-by-case basis in order to ensure educational accessibility. Be aware that Accommodations offered through a college are different than a typical high school and will not alter the academic standards of a class.
The Disability Services Office provides the following academic support services for students with disabilities - some through referral:
Disability counseling and advocacy/Advising
Assessment of basic academic skills
Accessible classrooms
Equipment loan (i.e., tape recorders)
Exam accommodations/Alternate testing arrangements
Tutoring/Scribes/Note takers or access to class notes
Learning success strategies workshops
Assistive Technology
Text in Alternate Format/Text on CD
Referrals to Community Agencies
And other appropriate accommodations as necessary
---
Academic Advising
Academic Advisors are available to help
Our mission is to help you stay on track to graduate with the least amount of stress and the confidence that you will not take courses that you do not need for your degree or certificate.
Advising Hold
All first-semester students have an Advising Hold placed on their account. This hold is lifted once a student contacts an advisor. The Advising Hold ensures that the first semester student talks to an Academic Advisor and completes the advising process before registering for classes.
Contact an Advisor on your campus to get started. Below you will find contact information for advisors on both campuses.
Transfer Advising
From Trinidad State to Four-Year Schools
Attending a two-year community college is an excellent way to begin your college career. Many Trinidad State College students plan to move on to a four-year college. You can be assured that your degrees from TSC will transfer into all 4-year state institutions if you meet the other graduation requirements. Some students don't plan on it, but end up deciding to transfer later. If you are one of these students, you are probably asking some of the following questions.
Walk in advising on both campuses...
8 a.m. to 5 p.m. Monday through Friday