Gunsmithing - Steps to Apply
Acceptance into the Gunsmithing School is determined on a point system criterion. If there are more applicants than space available, the applicants with the highest scores will be admitted first. If a space becomes available due to a student declining admission, the applicant with the next highest score will be contacted. Unsuccessful applicants will be notified and can reapply the next semester. Students who have been accepted but decline admissions must reapply if they would like to attend at a later date.
Students seeking admission into the Gunsmithing School must complete the following requirements. All required documents should be mailed (unless otherwise noted) to the Career and Technical Education (CTE) department at: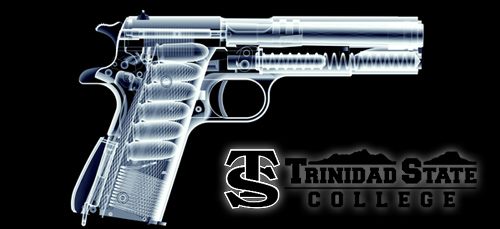 Trinidad State College
Gunsmithing
600 Prospect Street
Campus Box 335
Trinidad, CO 81082
---
If you have questions about the Gunsmithing admissions process, please contact: 800-621-8752
---
Deadline:
All documents must be received by the college by the following dates -
- May 15th for fall applications
- The last Friday in September for spring applications
- Applications with missing documents are considered incomplete, and will not be accepted.
---
Apply for admission to Trinidad State College
Apply TO TSC NOW
Official high school transcripts or GED Equivalent must be submitted to:
TSC Office of Admissions
600 Prospect Street
Trinidad, Colorado 81082
*

If you will be living in the campus dormitory, once accepted, please submit immunization records to Resident Housing at the above address.




Submit the following to:
Trinidad State College
Gunsmithing
600 Prospect, Campus Box 335
Trinidad Colorado 81082
- Driver's License (photocopy)
- Take the EdReady test -
Please contact Dan Wilson for details.
- Birth Certificate (photocopy)



Submit an essay to the Gunsmithing School


Your essay should be a maximum of 1,000 words, double-spaced and typed in Times New Roman font, size 12. Your essay should include the items listed in the Gunsmithing School application.


Mail the essay along with your completed Gunsmithing School application and above documents to the CTE Department.


Submit three (3) letters of recommendation
The recommendation letters should be from employers, teachers, or other professionals who are not related to the applicant and have a personal knowledge of the applicant's work ethic, and personal background. All recommendation letters must be mailed directly from the recommender to:
Gunsmithing Department
Trinidad State College
600 Prospect, Campus Box 335
Trinidad, CO 81082
(It is the students' responsibility to follow up in ensuring the receipt of all three letters)
Based on a review of the application scores, prospective students will be notified whether or not they have qualified for an interview.


Participate in an interview
The interview will be conducted via SKYPE or WebEx (video conference). The interview committee will consist of a minimum of two Gunsmithing Faculty members. The interview process determines the students who will be admitted to the program.
---
Notes:
Random drug testing of Gunsmithing students may be required as permitted by college policy. Colorado law forbids any person under the age of 18 to possess a handgun. Students must be 18 years or older before the Gunsmithing courses they are enrolled in begin.