EXCELLENCE! ~ One word says it all.
| Gunsmithing Degree | NRA Training |

The Gunsmithing School at Trinidad State College has a long tradition of excellence. The first gunsmithing courses were designed and offered at Trinidad State in 1947 by P.O. Ackley. Since that time the program has developed into a two year Gunsmithing Degree program that is designed to train individuals with the basic concepts and skills needed by the professional gunsmith. Coursework at the basic and advanced level includes: bench metal, machining operations, gun repair and stockmaking. A wide variety of specialized courses such as checkering, revolversmithing, competitive rifles, shotgunsmithing and pistolsmithing are also offered.
Our affiliation with the National Rifle Association assures students that the TSC Summer NRA program is high quality. For nine glorious weeks, the finest craftsmen and artists from the Gunsmithing world gather in Southern Colorado to offer hands-on courses to students from all over the nation. Come enjoy the tradition. Immerse yourself in Excellence.
Welcome to America's Premier Gunsmithing School.
---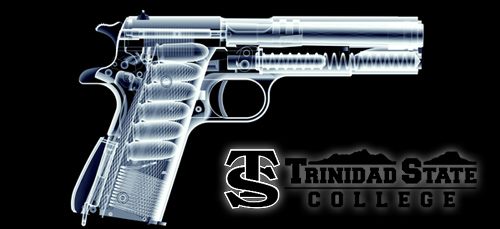 With the amount of attention provided to the students, one couldn't ask for more. In all my years of schooling, I have never come across the level of teaching and instruction provided at Trinidad State."
~ TSC Gunsmithing Student ~
---
Gunsmithing Program Mission Statement